Skinnies.
Not skinny jeans.
Skinny things that you ride a mountain bike over.
Murphy Mack's Mendocino Mountain Bike Madness (M5)
The trails in Mendocino, that I rode as part of Murphy Mack's Mendocino Mountain Bike Madness (M5), were sweet. Smooth, flowy, fern-lined, beautiful. I'd say a large majority of the trails were, well…skinny. Micro-track. Narrower than what people in the bay area commonly refer to as singletrack.
And that's fine. Whatever. Except when the skinny trail is perched on a precarious hillside ledge, which much of the trails were.
M5 was an all-inclusive weekend; for $285, you got two nights of cabin camping, seven gourmet, organic, farm-to-table meals, a fun race, group rides, and instructional clinics, all centered around the trails at Jackson State Demonstration Forest. There were nice bathrooms with hot showers. It was probably the most glamorous camping (I'm not sure I would go so far as to call it "glamping," as the bathrooms were outside of our individual cabins, risking one to exposure to bears, spiders and other things in the middle of the night when getting up to pee) I've ever engaged in. It might have been glamping, thanks to the efforts of Murphy Mack, the event organizer. Maybe I'll try for a cabin closer to the potty next year.
We checked in Friday, found a cabin, and ate a wonderful dinner. It was very cold that night. No matter how hot it is in Ukiah (like, 95 degrees) it will always be cold in a Mendocino forest. I will never forget this again.
Saturday Morning: Sport Race
Saturday morning we were both signed up to race. I decided to race "Sport" class. Mountain bike racing usually has four categories: Beginner (Cat 3), Sport (Cat 2), Expert (Cat 1) and Pro (Pro). Beginner was only one 10 mile lap, and I wanted to ride two laps for a longer ride, so off we went at 10:30.
We all huffed and puffed along the fire road in a peloton, and I made sure to take this part of the race seriously, to put myself as far ahead as possible. Once we hit the singletrack, which was indeed rather skinny, I was a little bit miserable trying to follow the quick riders up the hill, and not wanting yet to give in and let the person behind me by. There as a 10″ root or water bar that most people stopped and clambered over, while one guy went riding the half-inch wide bypass to the left. Rude! How dare someone have more talent than me. Sigh…
As things spread out a bit on the climb, a girl was making her way closer and closer to me. I could hear her talking. By the time we got to the first mini-summit of the first climb, I let her by. My self-esteem was pretty low at this point; the climb was hard, and this chick was just handling it. AND she claimed to be a new mountain biker. I struggled my way up the hill; there were one or two very narrow, tricky sections that had steep dropoffs (i.e. cliffs). I think I dabbed. Like Lee Nails, all you can do is Press On.
The descent was like a totally-worth-the-wait roller coaster ride. It too was mostly skinny, but now that I had some momentum, I felt more confident in my balance. I caught back up to Lina, the chick with the motor, and she politely let me by. Sweet! Was pretty sure she'd catch me again so I hurried to try to put some distance between us. I was following a guy in a Metromint outfit and a big guy in a royal blue jersey. Royal Blue was slowing me down just a hair, but I took the opportunity to rest and followed him for a good while up the next climb.
During Climb #2, there was a big split in the trail; both routes were part of the race course. Metromint and Blue went one way, I went the other. Turns out the way I chose, while more difficult, put me ahead of Mint and Blue by a lot. I never saw Blue again the rest of the race, and Mint didn't catch me until we were on our second lap, up Climb #1 again.
I never saw Lina again either. I wondered how many gnarly girls were ahead of me. I wondered where James was, and how he was faring. I wondered how Snoop Doggy Dogg got his name, and merrily sung a song of his to myself. I wondered if I might make it through the next lap without dabbing.
Towards the end of the course, there is a 18″ wide board crossing a stream. Embarassingly, I walked it. Again. Got back on my bike and sprinted for the finish, hoping against hope that my second lap would be faster than my first. It wasn't, but I won the race! Amazeballs.
Saturday Afternoon Ride: Widowmaker, Etc.
We drank some beer, had some lunch, and then got ready for our afternoon group ride. We had an enjoyable shuttle ride to a place 45 minutes or so from camp, then wind our way back on some sweet singletrack.
It was sweet, mostly, and mostly terrifying. Lots of skinnies. Even more narrow microtrack, and the addition of occasional 2×6 planks over little gullies formed by draining water. No, I didn't have far to crash usually, but riding over these skinny pieces of wood really shook me up. I was pretty fatigued from the race too. Frankly I would have rather seen a perfectly good man wearing skinny jeans than another narrow bridge or 2×6 on my mountain bike ride. I tipped over into a soggy ditch, soaking my right foot, and was vexed.
The trail reminded me though, at times, of some trails I've ridden at Pogonip and UC, in Santa Cruz. Very lush, with challenging and interesting terrain features strewn about occasionally. Only, these were mostly new types of terrain features, like the skinnies, the ledges, and so on. A good learning experience, yeah I cried okay there I said it, and I can't wait to kick its ass next year.
Murphy Mack told us, upon checking in, that the alcohol would be flowing and that if we remembered the weekend, we would have not had a successful event. So we had some drinks that night, but were like two golden retrievers taken on too long a walk – two drunken retrievers – and we passed out early in our warm cabin (our neighbors made a fire in the adjoining fireplace, heating our cabin too).
Sunday Morning: Next Time Stick to Road Rides
There were a few choices for group rides on Sunday, but the slowest one was a 30 miler. We were both pretty smoked so over scrambled eggs and french toast decided to just do a lap of the 10 mile race course and head home. I thought, oh, you know, no big deal, just spin, go up the climbs nice and slow, be mellow on the downhills, it'll be fine.
Well it wasn't fine. My legs had nothing in them, my balance was all screwed up, and my brain was wandering even more than it usually does. I tipped over a couple times, making these awful, gurgling, scared noises, which I'm sure James thinks are sad and ridiculous, but whatever. I pretty much survived until that wooden, three foot wide bridge in the middle of the course. The one with the handlebar-height metal pipe railings. I took the fast approach, following my speedy boyfriend, after taking the slow approach during the race. Looked where I wanted to go, and then BLAMMO. Pain.
I'd hit my hand and handlebar on the railing at a pretty good clip. I didn't crash but started howling. Stopped and rubbed my hand a bit, and god it hurt! Took my glove off and was just about blinded by copious amounts of florescent red blood. Swearing turned to tears, and then shock, and then pedaling, up the second climb, and down the second descent. We didn't know a better way back to camp; turns out we could have been back in 10 flat minutes instead of 45 minutes of gnar. I eyed my left hand warily, watching the red spot of blood soak further and further through my black glove, but stayed focused on getting back and not falling over again.
Oh well. The on-site EMT recommended stitches, can you see why?
Lucky to have a driver, I started drinking, showering and packing, and we got the eff out of dodge. I boozily enjoyed the pretty ocean views on the drive home, and we stopped in Cloverdale for milkshakes, and then I got dropped off at a hospital in Santa Rosa to get sewn up.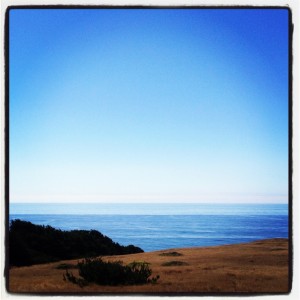 Thanks to Murphy Mack and his merry band of candy colored cyclists for an amazing weekend. Coach Thomas would have loved these trails, his tips and tricks helped get me around an unfamiliar trail with utmost quickness (well, for me). And thanks also to the Cupertino Bike Shop for their undying support and love!
I started riding road again three days later, and was back on the trails Sunday. I consider it yet another very inexpensive lesson:
MAYBE YOU SHOULD RIDE ROAD INSTEAD OF DIRT WHEN YOU'RE SO TIRED YOU CAN'T SEE STRAIGHT!