Looking at the photos Grant posted on Facebook of our Mana Road ride, a man I've never met before commented, welcoming us into something called the MOB Syndicate. Catchy, I thought. Mana-On-Bike. I found the naming of this adventure, or those who've completed it, fitting.
It's not as mind-blowingly difficult as the Downieville cross country course, with its eight mile climb and varied, technical terrain on the descent, but Mana Road has its own challenges and mystique.
Prep
When researching mountain biking options on the Big Island, we decided we wanted to do something big. Not just the local Hawaiian equivalent to a run at Skeggs, or Annadel, but something more epic and unique. The quality of the terrain was equally, or even less, important than the overall experience. Something more like Tahoe's Flume Trail. A ride you'd recommend to your friends who came from far away. A quintessential mountain bike tourist experience.
I researched rides on Google, Strava (which had no downhill segments on Mana Road), and dove into a chatty, Big-Island-Locals thread on the MTBR forum, and eventually compiled a list of options. At first I thought Mana Road was a 45 mile loop all the way around Mauna Kea, Hawaii's fourth oldest (and dormant) volcano, and that sounded epic, and do-able.
Not knowing anything about the duration, terrain, directions, locations, et cetera, and with no apparently available commercial help (like, the Big Island could really use something like Yuba Expeditions: shuttles, high quality demo bikes, maps, guides), I was really hoping I could convince a local to join us for the ride. I reached out on a Facebook group of local riders, and also in the chatty MTBR thread.
When I sat down in my seat on the plane, I had no idea if anyone or anything was going to come through. Worst case scenario, James and I would have our rental bikes and would just, I don't know, find a trail and ride around. It's Hawaii. Anything's still going to be fun.
I started getting some traction with a guy named Grant. He works for a telescope company and lives in Kamuela, near the base of Mana Road. We texted occasionally the first few days of our trip, and it seemed like he was down to ride with us. Better yet, he mentioned that we would self-shuttle to the top of Mauna Kea, a nearly 14,000 foot tall volcano, and then ride down it back to our cars. THAT ride was 45 miles, in and of itself. A loop would probably be more like a hundred miles, half dirt, half pavement.
I had no idea how this would all happen, but I took a deep breath, put my big girl britches on (and took my control freak pants off), and just trusted in the future. 6:45 a.m. Saturday was the meet time.
Friday, we went to Bike Works Kona to pick up our rental bikes. Cold, but generally polite, the staff there helped us get set up. We'd brought our own high-end saddles and XTR pedals, and yet still got the odd question, "wait, you've never ridden a mountain bike before?" I'm sure they must deal with all sorts of uptight, difficult, delusional triathletes and cyclists from the mainland, so I didn't really fault them for the chilly reception.
Whatever. We were riding down a volcano! Tomorrow!
Ride
It's not hard to get up early in Hawaii thanks to the time zone difference. We got to the Kamuela office of Canada-France-Hawaii-Telescope at 6:40, with Grant arriving shortly after. Quiet, but warm and happy, he seemed ready to ride, and also moved with a business-like efficiency as we de-wheeled and loaded up three mountain bikes (including one of an extra large size) into the trunk of an SUV.
I was cozy in the backseat as we drove up Saddle Road, a big, expansive highway with cherry pavement and a bright, shining double yellow. We were impressed with Grant's driving as he straightened out the corners and took us up the big hill. By the time we turned left onto the Mauna Kea access road, we were already up pretty high.
We parked Grant's truck at a building used for astronomers while they wait for ideal observing conditions at the telescopes. The place had darts, pool tables, work stations, sleeping rooms. We unloaded and put on every article of clothing in our possession; the temperature was below 50, and we weren't even at the very top, where the telescopes are. Grant, bless his heart, had even offered to drive us up to the telescopes so we could ride that descent too. He estimated it would add an hour to our already 5-6 hour long bike ride. Not knowing anything about anything, we decided against it.
And we were off like a herd of turtles. Literally, our backpacks were HUGE.
After eight minutes of downhill pavement, we'd traveled four miles. I saw a top speed of 43, James, 53. It felt like 20. The pavement was smooth, and it really felt like I was just driving conservatively in a car. Then I remembered I was on a very inexpensive rental mountain bike I'd never ridden before, got freaked out, but then shrugged and went with my usual mantra: "it'll probably be okay."
At the start of the dirt Mana Road, we stopped and adjusted a few things, and then started pedaling. Mana is a fire road, never anything less, and the road ambled along, never really too steep down hill, with occasional sections of moderate climbs.
We saw some pretty trees and things.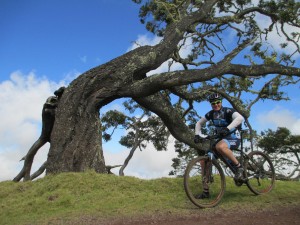 It warmed up quickly, and we started de-layering.
And I saw some Nene in the wild (Hawaii's endangered state bird).
After a few hours, we got to "the Douglas Fir memorial." I found it odd that there would be Douglas Firs in Hawaii. But actually, it was the place where the Scottish botanist who had named the Douglas Fir had died. No one is sure if he was killed or fell into the wild cattle trap accidentally, but it was here that he bought the farm.
It was very "Pit of Despair" like. We rode down a very steep, slick, grassy singletrack that I actually walked much of on my hardtail 29er. There were stumps and basketball sized rocks hiding in the grass.
I hiked back up, and the boys tried valiantly to clean the ascent.
Pain (or, BYOB)
Back on the road, the terrain became rockier and more interesting. We passed through some cattle gates and cattle guards, and rode through some pretty big, soft mud bogs. I was delighted by the trickier terrain and faster descending, but only until my bike bucked me out of my pedals and kicked me hard in my delicate girl parts, all while flying down a rocky descent around 20 mph. Then I got a little bit upset.
This bike was making so much noise, and I began to suspect that the suspension on the front was really only there for looks. All show, no go. I felt like I was riding a jackhammer down the hill. It was all fun and games until my bike tried to kill me. I continued to let the bike roll down the hill, because in the case of things with wheels, things seem to go easier if you keep your momentum, but I was less happy about it and less able to enjoy the beautiful terrain.
God I'm spoiled. I know. I started daydreaming about my Blur TRc with its beautiful, gleaming suspension in front and rear.
About halfway through we stopped, sat down and enjoyed some food and the views.
And then we carried on. Not satisfied with one charge of attempted murder, the Rockhopper sled tried to kill me again, this time by throwing my left hand off its handlebars, going probably, oh, 30 or so, down a rocky section. I don't even like to take a hand off the handlebars while soft pedaling along a flat, smooth dirt path. Me being tired and sore in the hands and wrists didn't help, I know, so yeah, I'm a weak little girl and not strong enough for a big, mean bike like that one, but lesson learned.
Around the 40 mile mark, I was pretty smoked. My legs and heart felt good, but my body ached with every rock, every pebble, every washboard skitter, but I carried on as fast as I could so the agony would end sooner. Grant estimated we'd be back to the cars by around 54 miles. Pedal pedal pedal. Oh, look, pretty Hawaiian scenery. Pedal pedal pedal.
The bottom section of the road was a long, steep, fast downhill, oh so painful on the Rockhopper pile, and then flattened out, yet was now festooned by miles of washboard torture. I pedaled along, desperately trying to find the smoothest lines through the washboard, looking at where James and Grant were riding, scanning the ground, fantasizing about my plush Blur.
Eventually we hit pavement once again. It was still a few miles back to the cars.
We followed Grant on a fun little urban parkour mountain bike jaunt through town, across football fields, over curbs, behind stores, and back to his office.
Where bikes were promptly washed.

Organize! Race! Fun!
Frankly, I was a little surprised by the lack of mountain biking events and infrastructure on the Big Island. What a big, beautiful island with so much challenging, varied, interesting terrain. Grant and I talked a little bit about it and I mentioned the Mendocino Coast Cyclists who build and sustain their own trails, promote races and organize rides. Saying it would be cool of Big Island Mountain Bikers to get organized in a similar fashion would be an understatement. So many opportunities for amazing riding and events there, especially with so many people already flocking to the Big Island for epic endurance events like Ironman, Ultraman, and more.
I haven't experienced any of the other big island trails, but a MOB down Mana Road would make for a pretty interesting cross country race. I'm not sure where else you can find a 45 mile downhill dirt ride – one that takes sport-level racers around five and a half hours to ride casually.
There are nice staging areas at the top, near the Mauna Kea Visitor's Center. And plenty of room along the route for aid stations. You could make it an epic combined pavement/dirt ride, possibly the ultimate cyclocross race. There's a dirt biking race around Mauna Kea, the Mauna Kea 200, which leads me to believe if they let nasty, dirty, noisy, smelly motorcycles (hee hee) race around Mauna Kea, why wouldn't they let mountain bikers have a race?
Or even a shuttle service, with quality mountain bikes available for rent or demo. Matt at Mountain Road Cycles in Kamuela should set this up. I was a bit crestfallen, meeting him by the taco shop after our ride, when he told us he had full suspension Tallboys for rent. NOW YOU TELL ME.
Mana Road isn't the most technical terrain, but from the looks of the Mauna Kea 200, it looks like there's singletrack hiding around there. Mana Road is still a unique experience though. The weather, the volcano, the length, the endless rollers, the washboards, the rocks, the cows. I'm so happy that we did the ride, and beyond grateful to Grant, our local guide, for accompanying us.
The ride on Strava:
Thanks again to Grant, our ever gracious host! We couldn't have done it without you!